Activities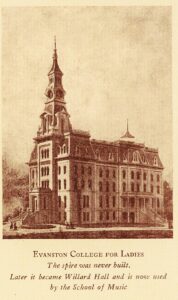 The Evanston College for Ladies, which opened in 1871, provided courses of study for female students ranging from classical or scientific studies, to more traditional female fields, including domestic sciences and studies in the arts. The college also provided college preparatory courses and training for kindergarten teachers.
History
The Evanston College for Ladies was a project of the Women's Educational Aid Association (WEAA) and was initially modelled as a "sister school" to Northwestern University. It was entirely staffed by women and run by an all-female board at a time when this was unusual in higher education. Frances Willard served as the college's first president. The first classes were held in 1871 and there were 236 girls in the first class.
Plans for a building for the college were in the works early and construction was well underway in October 1871 when the Great Chicago Fire caused funds to dry up and the finances of the college to be in jeopardy. In 1873, the Evanston College for Ladies merged with Northwestern, becoming the Woman's College of the university. The college's building at 711 Elgin Road was completed by the university.
The women of the WEAA continued to work to ensure that the university fulfilled its commitment to educate women "upon the same terms and conditions as young men." They ran College Cottage for many years, providing independent housing and financial support for female university students.
Importance
The Evanston College for Ladies offered young women higher education at a time when such opportunities where not common. It created a climate in the community where women where encouraged to pursue a wider role in the world, leading to this wider role being accepted and even expected in Evanston.
Women who were involved in the WEAA: Melinda Hamline, Mary Haskin, Hannah Bailey Pearsons, Mary Thompson Hill Willard.
Founded: 1869
Founders: Mary Haskins; Frances Willard; Hannah Bailey Pearsons; Elizabeth Greenleaf.
Notes: See also: Entry for Women's Educational Aid Association