Name: Hannah Bayley Pearsons (Bayley)
Birth Date: September 6, 1820
Birth Place: Newbury, VT
Death Date: March 4, 1909
Death Location: Evanston, IL
Burial Place: Rosehill Cemetery
Summary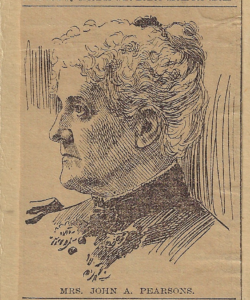 Hannah Bayley Pearsons (1820-1909) was one of the first settlers of the town of Evanston. She was active in the creation of institutions for the growing Evanston community including Northwestern University and First Methodist Church. She was a founding member of the Women's Educational Aid Association that gave financial aid to needy female students, and served as its president for many years. Pearsons Hall, a dormitory for female university students, was named for her.
Father: Amherst Bayley
Mother: Melissa Stevens
Children: Yes, 3 surviving children (of 4) - Henry, Isabella and Helen
Education: Newbury Seminary
Years in Evanston: 1854-1909
Sources: Archives and Collections: Biographical Clipping Files; "Evanston Women." Subject Files. Evanston History Center. "Women Students Earn Way" 1951. Newspaper Clippings. Evanston History Center. "Something for the Girls: Evanston Women in the Women Movement, 1854-1920" Evanston History Center Subject Files. Evanston Women Pre 1950: Newspaper Clippings.
Associated Organizations: