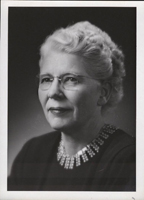 Name: Margery Carlson
Birth Date: November 21, 1892
Birth Place: Arthur Illinois, USA
Death Date: July 5, 1985
Death Location: Evanston Illinois, USA
Burial Place: Oakwood Cemetry, La Salle
Summary
World renowned botanist and conservation advocate Margery Carlson (1892-1985) lived in Evanston from 1930 until her death in 1985. She taught botany at Northwestern University and was a research associate at the Field Museum, helping build its plant collection through her travels around the world. Later she was involved with founding the Illinois Nature Conservancy, helping to preserve Volo Bog, Illinois State Beach and Matthiessen State Park. She was active in Evanston throughout her life, promoting Victory Gardens during WWII and helping create the Lighthouse Nature Center (the Carlson Greenhouse is named for her).
Significance
Margery Claire Carlson, Ph.D. (1892-1985) Margery Claire Carlson, Ph.D. was a botanist and professor who was committed to local nature preservation and conservation. Born in Arthur, Illinois in 1892, Carlson moved to Evanston in 1912 to begin her undergraduate studies at Northwestern University. Carlson completed her Bachelor of Science in biology from Northwestern in 1916 and subsequently earned a master's degree and doctorate from the University of Wisconsin in 1920 and 1925, respectively. Carlson held a series of post-doctoral appointments from 1925 to 1928, whereupon she returned to Northwestern as an instructor in the University's botany department. At the time, she was one of only five female faculty members at the University.
In 1930, Carlson was promoted to assistant professor of biology. She retained the title for more than 20 years until she was promoted to associate professor in 1954 and associate professor emeritus upon her retirement in 1958. During her teaching career, Carlson frequently traveled (with research associate and long-time companion Kate Staley) to Mexico and Central America to collect rare plant specimens for Northwestern University and the Field Museum of Natural History, where she worked as an associate and later, as a research associate. The specimens she collected now comprise a significant portion of the Field Museum's holdings from Central America.
In Evanston, Carlson was closely involved with activities at Lighthouse Park, restoring and caring for the Nature Trail as chair of the Garden Club of Evanston Wildflower Committee and helping found the Nature Center. Carlson was also involved with the war effort from 1941 to 1948, serving as chair of the Evanston Victory Garden Committee. The garden encouraged Americans to grow their own food during the war period and provided plots for more than 2,500 Evanston families while Carlson was chair.
Carlson died in Evanston in 1985 at the age of 92. She received numerous awards and honors during her lifetime for her devotion to local conservation and preservation and her achievements in the field of botany, including the Eloise Payne Luquer Medal and the Sarah Gildersleeve Fife Memorial Award from the Garden Club of America in 1952 and 1954, respectively. The Big Bend Preserve in LaSalle County, Illinois was renamed the Margery C. Carlson Nature Preserve.
Father: John E. Carlson
Mother: Nellie Marie Johnson
Education: University of Wisconsin: PhD in Botany, 1919-1925. Northwestern University: BS, 1912-1916. La Salle-Peru Township High School, La Salle, Illinois.
Years in Evanston: 1930-1985
Sources: Archives and Collections: "Carlson, Margery." Biographical Files. Evanston History Center. Evanston, IL. "Evanston Garden Club." Subject Files. Evanston History Center. Evanston, IL. "Evanston Women." Subject Files. Evanston History Center. Evanston, IL. Northwestern University Archives. Newspapers: "Evanston War Garden Fete to Close Tonight; Make Final Awards in High School Armory." Chicago Daily Tribune, September 5, 1943. Accessed in ProQuest Historical Papers Chicago Tribune (1849-1986). Secondary Sources: Illinois Department of Natural Resources Website. Schultz, Rima Lunin, and Adele Hast, eds. Woman Building Chicago, 1790-1990: A Biographical Dictionary. Bloomington: Indiana University Press, 2001.
Associated Organizations: