By Kris Hartzell, Director of Facilities and Visitor Services, Evanston History Center
Bertha Yerex was the first woman to graduate from the College of Architecture and Design at the University of Michigan.  According to Bertha, when she applied in 1914, the Dean of the college told her that as a woman she was not welcome in the architecture program.  She was accepted nevertheless and became one of the pioneering women in architecture. In 1915 she co-founded the T-Square Society, an association for the few women architectural students at the university. During WWI she went to work as the first female drafter for the Dodge Company in Detroit. After the war she finished school, receiving her degree in 1920.
In 1921 she married Lloyd E. Whitman in Ann Arbor. On the advice of Emil Lorch, the dean who had previously tried to discourage her from joining the architectural program, she and her family moved to Chicago to pursue her career. At first, Whitman found it difficult to get work, as many firms refused to even interview her. She obtained her Illinois architectural license in 1926 and was hired by the firm of Perkins, Fellows and Hamilton. The same year her second child, Suzanne, was born.
Her work at Perkins, Fellows and Hamilton was extremely rewarding. She wrote an account of her experiences there, "My Life at Perkins Fellows and Hamilton." She said she was treated as an equal, allowed to work on all aspects of every major project with all the engineers. She became one of the nine founding members of the Women's Architectural Club of Chicago. She and another woman at the firm would host the club's exhibitions at the Perkins, Fellows and Hamilton offices on Michigan Avenue.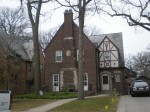 During the Depression her husband's business collapsed and he left her in 1934.  In order to support her family, she went to work as a social worker for State of Illinois. Three years later she was designing office remodels for state building. Whitman also maintained an independent residential practice.  She designed houses for many builders who lived in Evanston, including Otto Shultz, Fred Johnson, Horatio.W. Dring, Ray W. Pervier and John Strom. In 1931 she won a Better Homes Award from a contractor's association for the house she designed for B.G. Lawrence at 2719 Payne Street. The commendation noted the "unique, convenient arrangement of rooms and stairways" in the design that was featured in the women's architecture display at the 1933 World's Fair.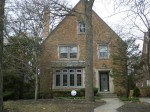 According to one account she designed more than 50 houses between 1928 and 1967. Her designs were often noted for their efficient use of space.  She was the subject of an article in the Chicago Tribune in 1973 entitled "A Woman Architect: She builds a well-planned house." Whitman prided herself on designing houses well-suited for domestic life. She also traveled widely, studying architecture in Europe, Egypt, Japan and Africa. Whitman circled the world five times, and in 1966 wrote a book on her experiences, A Tyro* Takes a Trip. (*novice) Bertha lived at 2656 Lincolnwood Drive until 1975. Whitman died in 1984 at the age of 92.
Partial List of Evanston houses:
2444 Central Park, John Strom 1928
2440 Central Park, John Strom, 1929
2436 Central Park, John Strom, 1930
2430 Central Park, John Strom, 1930
2719 Payne Street, B.G. Lawrence, 1930
3128 Park Place, Fred Johnson, 1935
Originally published in the 2014 Evanston History Center House Walk booklet.