Temperance advocate and prohibition supporter. Progressive. Straight-laced. Free-wheeling. Conservative. Radical. These words and more may be what come to mind when you think of Frances Willard. But they don't fully describe her and in many ways get her entirely wrong.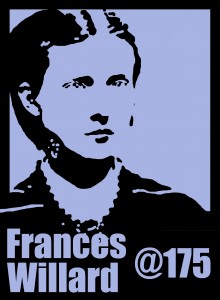 An upcoming talk at the Evanston History Center will tell the true story of Evanston's most famous citizen and one of the world's most influential women. Given by Lori Osborne, Archivist at the Evanston History Center and Director of the Evanston Women's History Project, the talk will take place Thursday, May 1st at 7:00 pm (doors open at 6:30) at the Evanston History Center, 225 Greenwood Street. A dessert reception will follow. Tickets are $10 (free for members of partnering organizations). RSVPs are recommended and can be made by calling 847-475-3410 or at this web address: franceswillardhouse.org.
2014 marks the 175th anniversary of Frances Willard's birth and [email protected] is a yearlong series of events to honor this occasion by re-introducing her and her work as social reformer and radical progressive to the world.
Partners in [email protected] include: Alpha Phi Foundation, Evanston Women's History Project at the Evanston History Center, First Methodist Church, Frances Willard Historical Association, the League of Women Voters Evanston and Shorefront Legacy Center.