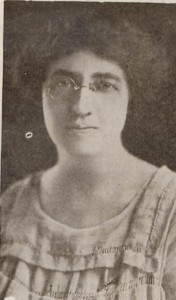 This year marks the 100th Anniversary of International Women's Day and this moment has a surprising Evanston connection in May Wood Simons. Simons and her husband, Algie, were Evanston residents for many years and were active in the early years of the Socialist Party in America. Simons wrote for and edited several socialist publications, including the Worker's Call, the Chicago Daily Socialist, and the Internationalist Social Review.

In 1909, the first National Woman's Day was held throughout the United States on February 28th. It was organized by the newly formed Woman's National Committee of the Socialist Party to celebrate the political rights of women. May Wood Simons was a delegate to, and later head of, the committee and spoke in favor of the Socialist party supporting women's suffrage. To celebrate this first Woman's Day, Simons gave a lecture about women's suffrage at the Evanston Auditorium.
For the 1910 Woman's Day, Simons spoke at the Garrick theater in Chicago, lecturing about the relationship between the women's movement and the industrial and economic movement of workers. That same year, Simons was the American delegate to the International Socialist Congress at Copenhagen, where Clara Zetkin was inspired to create a similar celebration in Germany and Austria, founding International Woman's Day the next year, in 1911. In the U.S., 1911 Woman's Day was celebrated with lectures by several prominent speakers at Carnegie Hall in New York City, including Simons and fellow Chicagoan Florence Kelley.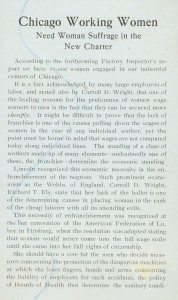 Although we don't know how Simons celebrated subsequent Woman's Days, she did resign from the Woman's National Committee in 1914 because of what she felt was a lack of care for women's issues by the Socialist Party. Afterwards, Simons devoted herself to the cause of Americanization of immigrants during the First World War. She continued to work for women's issues, especially women's suffrage, and gained a position of leadership in the League of Women Voters once suffrage was achieved.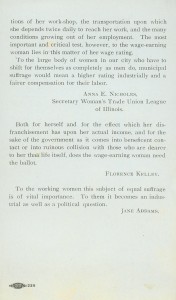 Simons later pursued a PhD in economics from Northwestern University, which she received in 1930, and also became a part-time instructor there. She published an economics textbook in 1945 entitled Everyday Problems in Economics. Though little known for her contributions to the establishment of the Woman's Day celebrations, she remains pertinent in Evanston and national history for her activism throughout her life. Today, women around the world celebrate International Women's Day, (go to http://www.internationalwomensday.com/ to find out more) thanks to the inspiring work of women like May Wood Simons.