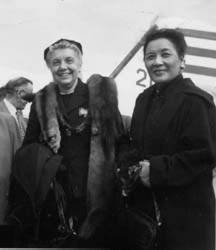 Name: Marguerite Church (Stitt)
Birth Date: September 13, 1892
Birth Place: New York City New York, USA
Death Date: May 26, 1990
Death Location: Evanston Illinois, USA
Burial Place: Memorial Park Cemetery
Summary
Marguerite Stitt Church (1892-1990) graduated from Wellesley College in 1914 and received her Master's degree from Columbia University in 1917. She came to Evanston in 1919 with her husband Ralph. Ralph Church was an IL state representative from 1916 until 1932 and was elected to the U.S. House of Representatives in 1935. During these years, Marguerite Church was active in many Evanston organizations, including the League of Women Voters and the Business and Professional Women's Club. She also assisted her husband with his official duties, including visiting Europe in 1949 to assess post-war conditions. When her husband died close to the end of his term in 1950, Church ran under his name and was elected to serve, remaining in office until 1963. She served on the House Foreign Affairs Committee, the Committee on Government Operations and several sub-committees, including Science and Austronotics.
Significance
Marguerite Stitt Church was an activist, social reformer, politician, wife and mother who lived in Evanston during times of great change in the 20th century. When she became a Congresswoman she advocated for Civil Rights, Women's Rights, Foreign Policy and Economic Recovery. President Kennedy appointed Church as a United Nations Delegate and she travelled extensively around the world. She was one of eight women elected to the 82nd Congress in 1951, and although she represented the Republican Party, she established friendships with other Congresswomen who were forging their way ahead in a male dominated field and giving a domestic perspective to global issues. Church was keenly aware of the extra scrutiny she would receive as a woman in Congress, and that any mistake she might make would be blamed on her being a woman instead of being wrong, as would be the case for her male counterparts.
Marguerite (Stitt) Church was born in New York City, September 13, 1892 to parents William James and Adelaide (Forsythe) Stitt. Raised in an affluent, Methodist family with an older sister, Marguerite traveled overseas with her family every year and gained an early interest in the way other people lived their lives. She graduated from St Agatha School in 1910 and went on to study at Wellesley College, majoring in Psychology with minors in Economics and Sociology. She received a Masters Degree from Columbia University in 1917.
On 21st December 1918, she married Ralph Edwin Church who was an Illinois Republican State Representative serving in the Illinois Legislature from 1916 until 1932. In 1919 Ralph and Marguerite moved to Evanston, Illinois and started their family. They had three children, Ralph Edwin Junior born 1920, William born 1924, and Marjory Williams born 1929. Ralph Church was elected to the U.S. House of Representatives in 1934 and served from 1935 to 1940 and then 1943 until 1950. He died in 1950 at the age of 67 while appearing before the Committee on Expenditures in the Executive Department of the House Office Building in Washington DC. Upon his death, the Republican Party nominated Marguerite as the best qualified person to complete his term and she went on to run for the primary under her husband's name. She won by a narrow margin and continued to be successfully elected to office for six congressional terms, advocating strongly for efficiency and economy in government with an emphasis on representation and protection for all citizens.
During her political career, Church took a strong stance in foreign policy and campaigned for economic and political freedom in foreign countries. Although she was unsuccessful in passing an amendment to the Mutual Securities Act in 1954, she argued that U.S. funds were being used to nurture allies rather than support economies of developing countries. For ten years, she served on the House Committee for Foreign Affairs and for four years on the House Committee on Government Operations. She held the 13th District Seat of Chicago from 1951 until 1963. She voted on 6,292 bills and resolutions and missed only four roll call votes during her tenure in Congress. At the age of 70, Church retired from Congress but remained active in political issues until her death. She worked on Republican Presidential campaigns for Barry Goldwater in 1964 and Richard M. Nixon in 1968. President Nixon chose Church to serve on the planning board for the White House Conference on Aging.
Marguerite Church served on the board of Directors for the Girl Scouts of America and was associated with many other organizations, including the League of Women Voters, Business and Professional Women's Club of America, American Association of University Women, National Safety Council, Women's Board University of Chicago, Family Welfare Association of Evanston, Evanston Receiving Home of Illinois Children's Home and Aid Society, and the North Shore Auxiliary of Chicago Maternity Centre. Marguerite Stitt Church died May 26, 1990 in her Evanston home at the age of 97 and is buried in Memorial Park Cemetery, Skokie, Illinois.
Father: William James Stitt
Mother: Adelaide Forsythe
Children: Three: Ralph Edwin Jr., William, Marjory Williams
Education: St. Agatha School New York City, 1910; Wellesley College: BA, 1910-1914; Columbia University: MA, 1917.
Years in Evanston: 1919-1990
Sources: Secondary Sources: Schultz, Rima Lunin, and Adele Hast, eds. Woman Building Chicago, 1790-1990: A Biographical Dictionary. Bloomington: Indiana University Press, 2001.
Associated Organizations:
Associated Addresses: