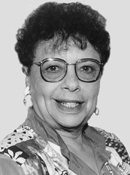 Name: Lorraine Morton
Birth Date: December 8, 1918
Birth Place: Winston-Salem North Carolina, USA
Death Date: September 8, 2018
Death Location: Evanston Illlinois, USA
Summary
Lorraine Morton (1918- ) came to Evanston in 1941 to study for her Master's Degree in Education at Northwestern University. Morton taught in Evanston schools for almost 40 years, breaking down racial barriers by being the first African-American teacher at an all-white school. She ended her educational career as principal of Haven Middle School. She was elected alderman for the fifth ward in 1982 and served until 1993, when she was tapped to run for mayor. Morton retired in 2008, becoming the longest-serving mayor in Evanston history.
Quotes: All the wonderful things that happen in Evanston happen by vote. We did it, not I did it
Children: One: Elizabeth Brown Brasher
Education: Winston-Salem State University: BS. Northwestern University: MA in Education. Kendall College: Honorary degree in Public Service.
Years in Evanston: 1941, 1953-present
Sources: Archives and Collections: "Morton, Lorraine." Biographical Files. Evanston History Center.