Name: Liu-Wang Liming (Wang)
Birth Date: January 1, 1898
Birth Place: Taihu County, Anhiu Province, China
Death Date: April 15, 1970
Death Location: Shanghai, China
Summary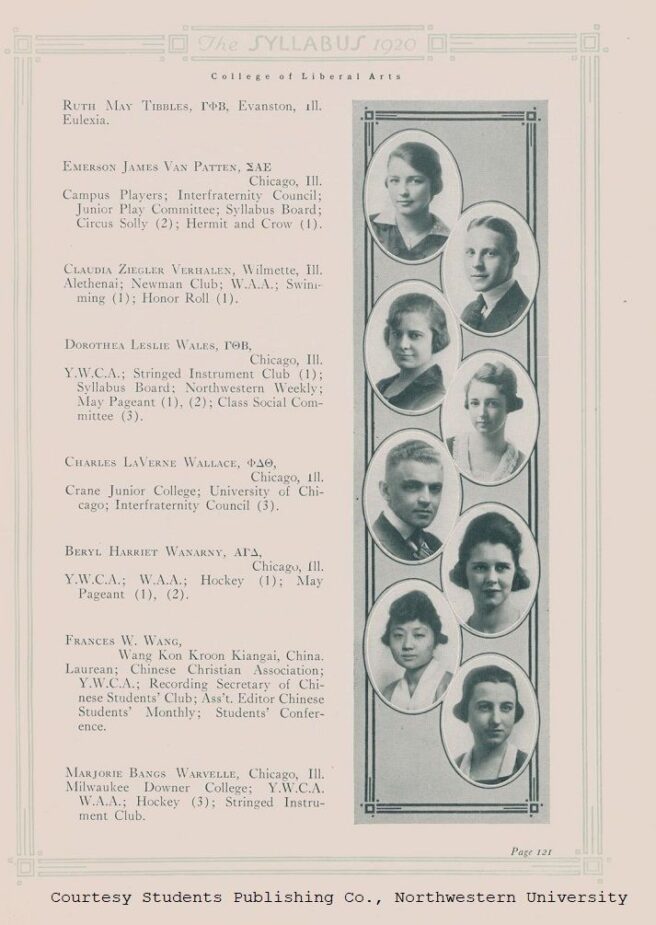 Liu-Wang Liming was born in Anhui Province, China. Her mother was president of the local Woman's Christian Temperance Union (WCTU) in the community, which connected her to Evanston where the WCTU was headquartered. Liu-Wang came to Evanston to attend Northwestern University in 1916 and graduated in 1920. While in school, she went by the name Frances Willard Wang, to honor Frances Willard who had died the year Liu-Wang was born. Willard had been president of the WCTU and the first Dean of Women at Northwestern. Through her family connections, Liu-Wang lived at the Willard House while attending Northwestern, and was sponsored by Anna Gordon who was the president of the WCTU at the time. Liu-Wang was active in the Chinese Christian Association and the campus YWCA. She was secretary of the Chinese Students' Club and wrote for Chinese Students' Monthly, which was founded in 1906 and was the first student paper for Chinese students in the U.S. She earned a Bachelors and Masters degree in Biology from Northwestern.
Liu-Wang met Herman Liu while in the U.S. They married and then returned to China in the midst of the tumultuous changes going on in the country. In China, Liu-Wang was an active member of the World's Woman's Christian Temperance Union, lead the Chinese Women's Temperance Association for more than 30 years, and organized local chapters throughout the country. She had a broad vision of social reform and under her leadership the WCTU of China became the largest women's organization in the country with ten thousand members. Liu-Wang spoke widely about women's rights, including women's suffrage. She organized the Shanghai Women's Suffrage Association and published The Women's Voice, a Chinese women's magazine. She also wrote a book about the Chinese women's movement which was published in 1934.
In 1938 Herman Liu was killed during the Japanese occupation of the country. Liu-Wang fled Shanghai for the safety of herself and her children, and her work for the WWCTU was curtailed. In 1945, she resumed some of her activities and was a member of the Chinese Democratic League. For many years she was persecuted by the Chinese government for her pro-democratic views. She was imprisoned in 1966 and was sent to a labor camp where died in 1970.
For more of her story visit: https://franceswillardhouse.org/becoming-the-frances-willard-of-china-the-life-of-liu-wang-liming/
Father: Wang Langzhong
Children: Yes - 3 - Guangsheng, also known as Franklin Willard (1924), Guanghua. also known as Gordon Bretthauer (1926), and a daughter Guangkun also known as Martha Jenni
Education: Northwestern University
Years in Evanston: 1916-1920
Sources: https://www.bu.edu/missiology/2020/03/02/wang-liming-1896-1970/; https://franceswillardhouse.org/becoming-the-frances-willard-of-china-the-life-of-liu-wang-liming/
Associated Organizations:
Associated Addresses: