Name: Emma Winner Rogers (Winner)
Birth Date: January 20, 1855
Birth Place: Plainfield, New Jersey
Death Date: March 3, 1922
Death Location: New York, New York
Summary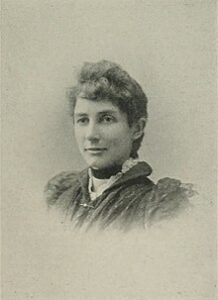 Emma Winner Rogers (1855-1922) came to Evanston with her husband Henry Wade Rogers when he was appointed President of Northwestern University in 1890. A graduate of the University of Michigan, Rogers was active in many local organizations, including serving as the first female member of the Evanston Historical Society board. Rogers became interested in the growing settlement house movement, formed to address issues facing the inner city poor and growing immigrant population. In 1891, she helped found the Northwestern University Settlement, a charitable organization based on the northwest side of Chicago. At NU Settlement, Rogers was involved with fundraising, resident recruitment, and even lived in the house as a resident for a short time. Rogers moved from Evanston in 1900.
Emma Winner Rogers was born Emma Ferdon Winner on January 20, 1855 in Plainfield, New Jersey. She was the daughter of Reverend John Ogden, a Methodist clergyman in Newark, and Sarah J. (Taylor) Winner. Emma was raised in the church and maintained her membership in it throughout her life. As a girl, she received a private, college preparatory education at the Pennington Seminary (now the Pennington School) in Newark, New Jersey.
On June 22, 1876, Emma Ferdon Winner married Dr. Henry Wade Rogers, a graduate of Hamilton College and member of the bar. Shortly after their marriage, Emma attended the University of Michigan and received her A.B. in 1877 and A.M. in 1891. Dr. Henry Wade Rogers was involved in university academics throughout his career and was appointed President of Northwestern University in 1890, prompting the pair to move into Evanston. Emma quickly became connected to the city, and her interest in it spurred her to join and establish numerous local organizations. Similar to her husband, Emma was an academic herself and was also invested in education and aided the foundation of the University Guild. Her occupation as a writer and a speaker primed her for her future endeavors in founding associations and serving the community.
Her most notable achievement was her work in establishing the Northwestern University Settlement Association in 1891. The Association provided funding for Northwestern University's Settlement House, whose chief aim was to provide a sense of community and belonging for newly arrived immigrants struggling to find kinship. The House was a charitable and educational institution. Rogers' aim was to "cultivate a neighborhood feeling," and to "find friendship and understanding,". Her involvement in the association was unparalleled, and she was involved in every aspect, from fundraising to resident recruitment. Rogers even moved into the Settlement House in November of 1900, but had to leave after only a month because her husband was appointed as Dean of the Yale law school. The Settlement House grew to be a major social center in the area, and at times helped upwards of 1,000 individuals a day. Emma Winner Rogers was a key figure in the creation of the Northwestern University Settlement Association and served as the President on its Board for a total of six years, from 1894 to 1900. Rogers even moved into the Settlement House in November of 1900, but had to leave after a month because her husband accepted the post of Dean at Yale's law school.
Rogers also played a pivotal role in the foundation of the Evanston Historical Society in 1898. Rogers was the only female among the seven founders, and was the first female member on the Board of Directors, serving from 1898 to 1900. Additionally, she sat on a committee "to bring the work of the Society to the favorable attention of the people of Evanston"  as well as an Executive Committee. 
Throughout her career, Rogers frequently participated in local social and economic institutions. Among these were her involvement in the American Economic Association, the Association of Collegiate Alumnae, the Fortnightly Club of Chicago, and the Woman's University Club of New York City. From local women's and economic clubs to fostering adoration for the Arts and Crafts movement, she cultivated a sense of community and creation wherever she went.
After leaving Evanston in 1900, Rogers continued to play an active role in local and national social reform. She was given the opportunity to continue her important Settlement House work by the Lowell Settlement House and Model Housing Associations in Connecticut. Rogers also volunteered for the Women's Overseas Hospitals during World War I to provide aid on a national level. 
Rogers also found herself engaging in national Democratic politics and the suffrage movement. She served as the Treasurer for both the Women's Bureau of the Democratic National Committee and the National Woman's Suffrage Association from 1914 to 1919. 
Later in her life Rogers moved back to New Jersey with her husband into Old Homestead, the home of her late grandfather located in Hudson Valley. There she composed her work The Journal Of a Country Woman, published in 1912. She lived a much slower life in the country, a sharp contrast from her exceedingly busy formative years. Emma Winner Rogers passed away at the age of 67 on the 3rd of March, 1922, in New York City.
Father: John Ogden Winner
Mother: Sarah J. Taylor
Education: University of Michigan (AB 1877, AM 1891)
Years in Evanston: 1890-1900
Sources: Archives and Collections: "Rogers." Biographical Files. Evanston History Center Records book of the Evanston Historical Society, 1898-1937, box 6, folder 1, Evanston History Centre, Evanston Illinois. Henry Wade Rogers Papers. Biographical Materials, box 1, folder 7. Northwestern University Archives. The Worn Door Step; Informal History of the Northwestern University Settlement Association, 1891-1991 by Mark Wukas, edited by Doris Overboe and Ronald R Manderschied, published by the NU Settlement Association.
Associated Organizations: