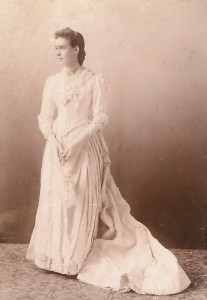 Name: Caro Dawes (Blymyer)
Birth Date: January 6, 1865
Birth Place: Cincinnati Ohio, USA
Death Date: Ocotober 9, 1957
Death Location: Evanston Illinois, USA
Burial Place: Rosehill Cemetery, Chicago, Illinois
Summary
Caro Blymyer Dawes (1865-1957) was the wife of Charles Gates Dawes (who served as Vice President under Calvin Coolidge) and a community leader in her own right. Caro Dawes was very active in children's welfare issues by the time the Dawes' moved to Evanston. She was a founder of The Cradle, which helps place orphaned children in new families. And, helped to found the Illinois Children's Home and Aid Society. When she was not focused on child welfare, her home was the site of numerous meetings of community groups, including the Alliance Francaise, and gatherings of local, national and international political leaders.
Father: William Blymer
Mother: Carolyn Blymer
Children: Four: Carolyn (1892), Rufus (1890), Dana (adopted 1912), Virginia (adopted 1914).
Years in Evanston: 1895-1957
Sources: Archives and Collections: "Evanston Women." Subject Files. Evanston History Center. Evanston, IL. Dawes Collection, Evanston History Center. 1925 Evanston Directory Secondary Sources: United States Senate. "Charles G. Dawes, 30th Vice President (1925-1929)."http://www.senate.gov/artandhistory/history/common/generic/VP_Charles_Dawes.htm. Organizations
Associated Organizations: