When: Saturday, April 29, 2023, 11:00 am–12:30 pm
Where: Evanston Township High School Welcome Center, room E112; enter through door 1 or 2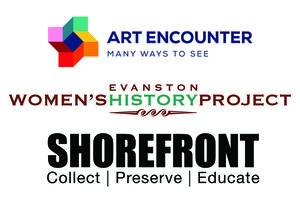 You're invited to be part of Evanston history! Art Encounter's Evanston Mural Arts Program is leading an exciting mural project this year, celebrating the lives and legacies of notable women leaders in Evanston history. The mural will be painted by a team of artists led by veteran muralist Dorian Sylvain on a public wall in downtown Evanston. Our partners, the Evanston Women's History Project at the Evanston History Center and Shorefront Legacy Center, are working with us to develop the content for this mural.
We invite you to share your input as well. On Saturday April 29 at 11:00 am, we are gathering at Evanston Township High School to hear YOUR stories of Evanston women who you think should be included in the mural: not only histroical subjects but more contemporary women of local impact. If you have subjects and stories that you want to share, please join us for this 90-minute listening session. Following the session, our artist team will use this input to develop the design for the mural. This meeting will take place in person only.
To RSVP for our Community Input Session or to submit your thoughts and feedback online, please use the button below to fill out our online form.
ABOUT THE LEAD ARTIST: DORIAN SYLVAIN
Dorian Sylvain is a studio painter and muralist, as well as an art educator, curator, and community planner. Much of her public work addresses issues of beautification inspired by color palettes and patterns found throughout the African diaspora, particularly in architecture. Core to her practice is collaborating with communities to elevate neighborhood aesthetics and foster shared understanding. She has partnered with and been commissioned by organizations such as the South Side Community Art Center, Hyde Park Art Center, National Museum of Mexican Art, DuSable Museum, Chicago Park District, and the Chicago Public Art Group, and she has devoted her work to building the next generation of "cultural keepers."