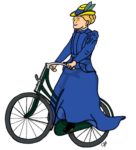 The Frances Willard House Museum, in partnership with the Evanston Women's History Project and Shorefront Legacy Center, is proud to announce the first annual Tour Evanston Women's History Map. The 2018 map will highlight fifteen women's history sites throughout Evanston around the theme She Persisted. It will provide a fun, informative and relevant summer activity for self-guided walking, biking and driving tours, with brief information about fifteen amazing Evanston women.
Designed by local illustrator Caroline Brown, the map will cost $10 and will be available for purchase beginning Sunday, May 27 (Memorial Day weekend) from 1-4 pm at the Frances Willard House and the Evanston History Center (EHC). It will be available for purchase throughout the summer when these locations are open (Willard House – Thursdays and Sundays 1-4 pm; EHC – Thursdays-Sundays 1-4 pm). Additional locations will be announced.
Sponsorship of the map comes from: Emilie Hogan Broker @Properties and The Wellness Revolution.
For more information, visit: www.franceswillardhouse.org
Stay tuned on this website for more information about the fifteen women who will be highlighted this year.