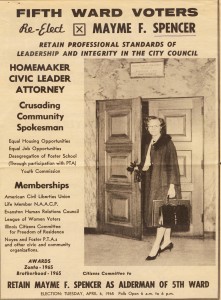 Name: Mayme Spencer (Finley)
Birth Date: February 28, 1921
Birth Place: Milwaukee Wisconsin, USA
Death Date: February 8, 2011
Death Location: Evanston Illinois, USA
Summary
Attorney Mayme Spencer was Evanston's first African-American woman to serve as alderman. She came to Evanston in 1957 with her husband Warren, a doctor at the Community Hospital. Spencer was elected Alderman in 1963 and served two terms. A graduate of Kent College of Law, Spencer practiced law for many years at a Chicago law firm while also raising four children and serving on numerous city commissions and the city council. She was also active in the local civil rights movement and at Mt. Zion Missionary Baptist Church.
Significance
Mayme Finley Spencer was Evanston's first African-American female alderman. As an alderman, she helped to pass Evanston's fair housing ordinance, which allowed African-Americans to buy homes in any part of the city they wanted. Prior to the passing of the ordinance, African Americans were denied housing in certain areas of Evanston. Born in Milwaukee, Wisconsin on February 28, 1921, Spencer helped to raise her three siblings after her parents died. She graduated from Marquette University and later received her law degree from Chicago-Kent College of Law. Her husband, Warren Frank Spencer, was an one of the first African-Americans to graduate from Northwestern University's medical school. He helped to found the Community Hospital in Evanston, which was the only hospital to serve African-Americans. Six years after moving to Evanston in 1957, Spencer was elected to a two year term as alderman. Later elected to another four year term, she ran on a platform of Equal Housing Opportunities, Equal Job Opportunities, the Desegregation of Foster School, and for a Youth Commission. She was associated with the law firm of Stewart and May, which later was combined with another firm to create Starke, Anglin, Savage, Frazin, Stewart and May. At the time of the combination, it was only one of two firms of comparable size to be fully integrated. After resigning from her post as alderman after moving out of the 5th district, she continued to practice law. She also became a member of the board of trustees of Northern Illinois University and was appointed to Illinois Governor Daniel Walker's commission on race relations. She died February 8th at The Mather in Evanston.
Father: Robert Finley
Mother: Evelyn
Children: Four: Clothield, Wendy, Karen, Shelley
Education: Marquette University. Kent College of Law, Chicago.
Years in Evanston: 1957-2011
Sources: Archives and Collections: "Women" Biographical Files. Evanston History Center.
Associated Organizations:
Associated Addresses: