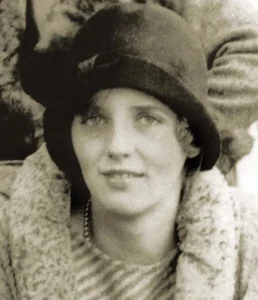 Name: Mary Jayne Gold (Mary Jayne Gold)
Birth Date: August 12 1909
Birth Place: Chicago IL
Death Date: October 5, 1997
Death Location: St. Tropez, France
Burial Place: Pilgrim Home Cemetery, Holland Michigan
Summary
Mary Jayne Gold (1909-1997) was a self-described "nice girl from Evanston" and an active member in rescuing refugees during WWII. The Chicago heiress used her wealth and status to aid refugees during the war instead of only helping herself. 
Mary Jayne was born in 1909 in Chicago, IL, to Egbert Habberton Gold (1868-1928) and Margaret Jayne Dickey Gold Thorgevsky (1883-1968). Egbert worked as an engineer and industrialist. Primarily he worked on automobile heating systems, notably the system for the Pullman Railroad cars. He eventually became the President of the Vapor Car Heating Company. The Golds lived in Chicago's Hyde Park and Kenwood neighborhoods in the early 20th century before moving to Evanston in 1923. The Golds were an affluent family due to the work of Egbert. They became members of the early 20th-century Chicago elite. The family was in various social clubs, such as the Chicago Yacht Club, South Shore Country Club, and Exmoor Country Club. They would eventually join the Evanston Country Club as well. 
Like many Chicagoans in the 20th century, Michigan became a regular vacation and summer location for the Golds. In 1912 Egbert had Evanston architect Eddy Tallmadge build the Golds' Marigold Lodge in Holland, Michigan. In 1969, after Mary Jayne's mother and brothers had died, she gave the Marigold Lodge to Hope College, who then sold it to Herman Miller Inc. It is now a historical landmark.
The Golds moved their primary residence to Evanston in 1923, purchasing a mansion at 1201 Sheridan Road. Once living in Evanston, the family interacted with other Evanston socialites, such as the Dawes family. Mary Jayne's mother, Margaret, was active in the Evanston social scene, leading the "Club Francais D'Evanston" in her home. Mary Jayne was enrolled in Roycemore School for about two years before being sent to the boarding school Master School in Dobbs Ferry, New York.
In 1927 the family began constructing a home in Miami and decided to move the family there, selling the 1201 Sheridan Road home in 1928. In 1928 Mary Jayne went abroad to finish school at the Collegio Gazzolo in Verona, Italy. While she was abroad, her father suddenly died in 1928 due to an unexpected illness. After finishing her schooling, Mary Jayne moved into the completed Miami home with her mother and eldest brother. However, in the 1930s, she moved to France, where she became interconnected with the French art and social scene. Mary Jayne earned a pilot's certificate and purchased a plane in France. She became passionate about adventure, and during the 1930s, she flew herself around Europe. In 1940 Mary Jayne participated in wartime efforts. She donated her plane to the French government and joined the Emergency Rescue Committee. The Emergency Rescue Committee aimed to help artists, Jewish people, and others escape the Nazi occupation, primarily in Vichy and Marseilles, France. 
Mary Jayne worked with Varian Fry, an American journalist, to help people escape from Vichy, France, through the Emergency Rescue Committee. Mary Jayne provided funding to the refugee organization and direct participation in its operations. Mary Jayne's financing of the Emergency Rescue Committee was crucial to the ability of the group to help an estimated 2000 people flee Nazi-controlled Europe during WWII. In 1941 she was forced to leave France and briefly lived in New York City before returning to the French Riviera for the remainder of her life. In 1980, Mary Jayne wrote a memoir about her experience in France during WWII titled Crossroads Marseilles, 1940. 
An article was published in the Evanston RoundTable by Jenny Thompson, Director of Education at the EHC, detailing Mary Jayne Gold's life: https://evanstonroundtable.com/2023/05/27/mary-jayne-gold-transatlantic-netflix-evanston-history/
Father: Egbert Habberton Gold
Mother: Margaret Jayne Dickey Gold Thorgevsky
Education: Faulkner School for Girls, Roycemore School, Master School In Dobbs Ferry NY, Collegio Gazzolo.
Years in Evanston: 1923-1928
Sources: Jenny Thompson, Ph.D. "Mary Jayne Gold: A Hero from Evanston." Evanston RoundTable, 28 May 2023, evanstonroundtable.com/2023/05/27/mary-jayne-gold-transatlantic-netflix-evanston-history/. Riding, Alan. "Mary Jayne Gold, 88, Heiress Who Helped Artists Flee Nazis." The New York Times, 8 Oct. 1997, www.nytimes.com/1997/10/08/arts/mary-jayne-gold-88-heiress-who-helped-artists-flee-nazis.html. Schoenberg, Nara. "Evanston Heiress' World War II Heroics Inspired Latest Novel by Meg Waite Clayton." Chicago Tribune, 3 Dec. 2021, www.chicagotribune.com/news/ct-evanston-heiress-inspires-novel-tt-1130-20211130-n36mbdjpnvbqhd27acvs253aka-story.html. United States Holocaust Memorial Museum, exhibitions.ushmm.org/americans-and-the-holocaust/personal-story/varian-fry. Accessed 12 July 2023. Water, Randy Vande. "The Legacy of Mary Jayne Gold Includes Marigold Lodge." The Holland Sentinel, 14 Oct. 2016, www.hollandsentinel.com/story/lifestyle/family/2016/10/16/the-legacy-mary-jayne-gold/25118734007/.