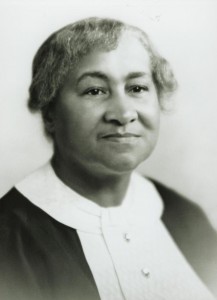 Name: Isabella Maude Garnett
Birth Date: 1872
Birth Place: Evanston Illinois, USA
Death Date: August 23, 1948
Death Location: Community Hospital, Evanston Illinois, USA
Burial Place: Sunset Cemetery
Summary
Dr. Isabella Garnett (1872-1948) was born in 1872 to one of Evanston's earliest African-American families. Garnett received her medical degree in 1901 from the College of Physicians and Surgeons in Chicago and returned to Evanston in 1904. Recognizing that hospital care for African Americans was very limited, she and her husband, Arthur Butler, opened the Evanston Sanitarium and Training School in 1914 in their home at 1918 Asbury Avenue. After Butler died unexpectedly in 1924, Garnett continued to manage the hospital. In 1928, Garnett joined the staff of the new Community Hospital and the two organizations merged. She served as superintendent at Community Hospital until 1945.
Significance
Isabella Maude Garnett was a physician and early leader in the organization of hospital care for African Americans in Evanston. Born in Evanston in 1872, Garnett received a nursing degree from Provident Hospital and Nurses Training School in 1895 and later graduated with a medical degree from the College of Physicians and Surgeons (now the University of Illinois College of Medicine) in 1901, making her one of the first female African American physicians in Illinois. Following her graduation, Garnett worked as an intern at Provident and began practicing on the South Side of Chicago before moving back to Evanston a few years later.
In Evanston, Garnett continued her practice and married Arthur DeLyon Butler in 1907. The couple adopted a son, Arthur Garnett Butler, Jr., a few years later and opened the Evanston Sanitarium and Training School in their house at 1918 Asbury Avenue in 1914. Established by Garnett and her husband for the care of African Americans in Evanston, the Sanitarium was one of only four hospitals in the Chicago area that would admit black patients. For nearly a decade, the couple managed the fourteen-bed hospital with Butler specializing in surgery and Garnett in general practice and anesthesiology until the untimely death of Butler in 1924. Thereafter, Garnett continued to manage and largely support the hospital herself with income from her private practice until 1928 when she joined forces with the Booker T. Washington Association to form the Community Hospital of Evanston. In 1930, Community Hospital opened with Garnett as superintendent. That same year, Garnett married Reverend James Rayford Talley.
Garnett remained superintendent of the hospital until her retirement in 1946. Thereafter, she spent the majority of her time in the African American resort town of Idlewild, Michigan. In 1930, the City of Evanston opened the Isabella G. Butler Park in honor of Garnett's pioneering role in the development of hospital facilities for the African American community.
Father: Daniel F. Garnett
Mother: Hannah B. McDuffin
Children: One: Arthur
Education: College of Physicians' and Surgeons' (now UIC College of Medicine), 1901. Provident Hospital Nurses' Training School, 1895. Business College in Minneapolis, Minnesota. Evanston Township High School (attended but didn't graduate).
Years in Evanston: 1872-1890, 1894-1948
Sources: Archives and Collections: "Women" Newspaper Clipping Files, Evanston History Centre, Evanston, Illinois. Newspapers: The Evanston Review "Isabelle Maude Butler Garnett" Obituary, 1948. The Evanston Directories (1882-1939). The Evanston Telephone Books (1940-1948). The North Shore Examiner, "Large Gathering Witness Butler Park Dedication" 14 June 1975. Unidentified Newspaper, "Six Evanston Parks to Bear Historic Names" 29 May 1975. The Tribune, "Park to be Named for Hospital Founder" 29 May 1975. Evanston Historical Society Newsletter, "Pioneer Women Doctors Fill Vital Human Need" Vol.XV No.4 (1984). Other Primary Sources: Schultz, Rima Lunin, and Adele Hast, eds. Woman Building Chicago, 1790-1990: A Biographical Dictionary." Bloomington, IN: University Press, 2001. Secondary Sources: City of Evanston, Cook Country Statement of Significance.
Associated Organizations:
Associated Addresses: