Name: Harriet Noyes (Newell Verbeck)
Birth Date: October 1827
Birth Place: Vermont
Death Date: May 26, 1908
Death Location: Andover, MA
Burial Place: Rosehill Cemetery
Summary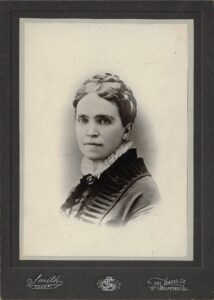 Harriet Sanborn Noyes came to Evanston with her husband Henry in 1855. They were among the earliest settlers of the village of Evanston as Henry was the first professor hired by Northwestern University. He taught mathematics and Greek and later served as interim president of the University. Their home was a center of university life in these early years with Harriet serving as mother, spiritual guide and informal teacher of the students.
After her husband's death in 1872, Harriet Noyes remained involved in Evanston life. She served on the board of the Evanston College for Ladies and was active in many other early Evanston institutions.
Father: William Verbeck
Mother: Sarah Colby
Children: 1, Margaret
Years in Evanston: 1855-1872
Sources: Archives and Collections: "Evanston Women." Subject Files. Evanston History Center. "Something for the Girls: Evanston Women in the Women Movement, 1954 [sic]-1920" Evanston History Center Subject Files. Evanston Women Pre 1950: Newspaper Clippings.