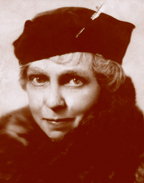 Name: Florence Walrath (Dahl)
Birth Date: October 18, 1877
Death Date: November 7, 1958
Death Location: Evanston Illinois, USA
Burial Place: Rosehill Cemetery, Chicago, Illinois
Summary
Following her sister's experience with infertility, Florence Walrath (1877-1958) founded The Cradle adoption agency in 1923. At the time, adoption facilities had not changed much since the 19th Century. Walrath and The Cradle became leaders in the effort to dignify adoption and improve the quality of child care in these agencies. She and her staff developed new methods of care, including sterile conditions and safe powdered formula for babies, and offered counseling for both birth and adoptive parents. The Cradle remains an internationally recognized leader in the field.
Significance
Florence Dahl Walrath founded The Cradle adoption agency in 1923, which she headed until 1950, in response to her sister's experience with infertility. Walrath created an organization that was influential in the world of adoption and pioneering new medical techniques that decreased infant mortality rates. Walrath had arranged over 80 adoptions by 1923, housing the babies for an initial observation period at the Evanston Hospital at her own expense. However, there was a larger demand for babies than the hospital could commit to and the personal expense was too great for Walrath. So, Charles Dawes, along with four other businessmen, each donated one thousand dollars to buy a building in Evanston to house the organization. Eventually, the organization expanded into two other buildings before a new building was opened in 1939 with a mechanical barrier for airborne germs and a germicidal light to destroy germs. This was a continuation of the organization's pioneering of techniques that lowered the infant mortality rate, which included the sterilization of infant formula and an antiseptic technique which prevented cross-infection from hand-borne germs. However, in 1939 The Cradle came under criticism for some of its practices in regard to adoption. In response, the mostly volunteer-run organization introduced a standard casework practice and cooperated with professional adoption agencies. Through the difficulty of increased scrutiny by the public and professional adoption organizations, the organization did grow under Walrath's leadership from an organization with eight beds to a capacity of 36 beds. In 1948 she moved into the Georgian Hotel, and retired as Managing Director of The Cradle in 1950. In 1952 she moved into the Mather Home, where she died November 7, 1958.
Children: Four: Mrs. HH Hunter, Mrs. John B. Sanborn, Mrs. Arthur H. Oehl, William B. Jr.
Years in Evanston: 1897-1958
Sources: Archives and Collections: "The Cradle." Subject Files. Evanston History Center, Evanston, Illinois. Evanston City Directories. Evanston Public Library. Northeast Evanston Historic District. Newspapers: Chicago Tribune- November 9, 1958 The Evanston Review- November 13, 1958
Associated Organizations:
Associated Addresses: