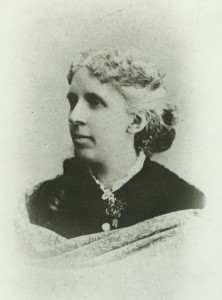 Name: Elizabeth Boynton Harbert (Boynton)
Birth Date: April 15, 1843
Birth Place: Crawfordsville Indiana, USA
Death Date: January 19, 1925
Death Location: Pasadena California, USA
Summary
As early as 1876, Evanston was home to the Pro and Con Club, organized by author and suffrage activist Elizabeth Boynton Harbert, for the purpose of discussing women's suffrage. Harbert had participated in the founding of the American Woman's Suffrage Association and was a close associate of Susan B. Anthony. She wrote the "Woman's Kingdom" column for the Inter Ocean, a leading Chicago newspaper, and later had her own monthly newsletter, "The New Era," where she expressed her expansive views on women's rights. Harbert was a founder or founding member of a number of women's associations.
Significance
Elizabeth Boynton Harbert was a prominent leader in the women's suffrage movement and prolific writer of publications and speeches on the subject of women's rights. Born in Crawfordsville, Indiana in 1843, Harbert attended Western Female Seminary in Oxford, Ohio before entering Terre Haute Female College in Indiana where she earned a Bachelor of Arts in 1862. Upon graduation, Harbert sought admission to all-male Wabash College but was denied. Outraged, Harbert penned her account of the experience for the New York Independent in 1865, beginning her long career as a writer and women's rights activist. Over the next five years, Harbert published her first novel and became involved in the women's suffrage movement, serving as vice president of the Indiana Woman Suffrage Association.
In 1870, she married William Soesbe Harbert, a lawyer and former officer during the Civil War, and moved to Iowa where she served as vice president of the Iowa Woman Suffrage Association the following year. In 1874, Harbert was elected president of the Iowa Woman's Suffrage Association but did not complete her term, as she moved to Evanston later that year. In Evanston, Harbert remained active in the women's suffrage movement, serving as president of the Illinois Woman Suffrage Association for twelve years and vice president of the National Woman Suffrage Association for Illinois.
During this period, Harbert also became involved in the founding and management of various other local, state, and national organizations, including the Woman's Club of Evanston, the Illinois Social Science Association, and the National Household Economic Association. Harbert continued to write during this time as well, starting the "Woman's Kingdom," a column in the Chicago Inter Ocean dedicated to the moral and political interests of women and The New Era, a monthly periodical for the discussion of women's rights issues.
In 1891, Harbert received an honorary doctorate from Ohio Wesleyan University in recognition of her dedication to the promotion of justice and equality for women. In the years thereafter, Harbert remained active within the Evanston community until 1906 when she moved to Pasadena, California with her family. She died there in 1925 at the age of 81. Evanston has since dedicated a park in her honor, named Harbert-Payne Park.
Father: William H. Boynton
Mother: Abigail Upton Sweetser
Children: Arthur Boynton Harbert (9/4/1871-11/22/1900) Corinne Boynton Harbert (9/30/1873-8/3/1958) Boynton Elizabeth (Harbert) Rowe (10/24/1875-4/23/1949)
Education: Ohio Wesleyan University: Honorary PhD, 1891 Terre Haute Female College: AB, 1862 Western Female Seminary, Oxford, OH
Years in Evanston: 1874-1906
Sources: Primary Sources: Willard, Frances. A Classic Town: The Story of Evanston. WT Publishing Associates, 1891. p. 367 Secondary Sources: Schultz, Rima Lunin, and Adele Hast, eds. Woman Building Chicago, 1790-1990: A Biographical Dictionary." Bloomington, IN: University Press, 2001.
Associated Organizations: