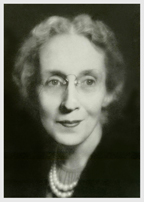 Name: Edna Baker (Dean)
Birth Date: August 27, 1883
Birth Place: Normal Illinois, USA
Death Date: March 20, 1956
Death Location: Riverside California, USA
Summary
Edna Dean Baker (1883-1956) was a pioneering educator who helped develop standards for early childhood education in the U.S. She served as president of the National College of Education (now National Louis University) from 1920 until 1949, and with her sister Clara founded the Baker Demonstration School there. The two were early proponents of kindergarten and preschool, where they developed their "learning by doing" approach. A nationally recognized author, Baker also served on numerous national panels and committees promoting new standards in child education and care.
Significance
Edna Dean Baker was a leader in the field of early childhood education, serving as president of the National College of Education (now National Louis University) from 1920 to 1949 and co-founder of the Children's School at National with her sister Clara. Born in Normal, Illinois in 1885, Baker moved to Evanston from Bellingham, Washington with her parents and sister in 1902. In Evanston, Baker began her college education at Northwestern University as a classics major but later transferred to Chicago Kindergarten College (an early forerunner of National) when she decided to pursue a career as a kindergarten teacher. Upon her graduation from Chicago Kindergarten College (CKC) in 1908, Baker taught at a private kindergarten in Evanston headed by Laura Ella Cragin, and subsequently took control of the school with her sister in 1909. Baker and her sister ran the school until 1917, renaming it Evanston Elementary School and expanding it to include grades 1-6. In 1918, Baker and her sister founded the Children's School (now Baker Demonstration School) at CKC, which was later renamed the National Kindergarten and Elementary College. Two years later, Baker succeeded the ailing Elizabeth Harrison as president of the college, and it was subsequently renamed the National College of Education (NCE) in 1930. During her 29-year tenure as president, Baker worked to strengthen the school's academic program and raise national standards for early childhood teacher education programs. She also held many important state and national posts in the field of early childhood education, including a committee appointment by President Herbert Hoover in 1930. Baker retired from her position as president of NCE in 1949 and remained in Evanston until 1952 when she moved to Riverside, California with her sister. She died in 1956 at the age of 72. Throughout her lifetime, Baker wrote numerous articles and books about early childhood education and teacher training, in particular character and religious education. Her legacy lives on in these writings and in National-Louis University's strong commitment to excellent teacher education.
Father: Joshua Edmund Baker
Mother: Olive Elmira Clark
Education: Northwestern University: MEd, 1921. Northwestern University: BEd, 1920. National College of Education, Chicago, IL: 1913. Bellingham Washington High School: 1902. Columbia University: summer courses.
Years in Evanston: c. 1902-1952
Sources: Archives and Collections: "Baker, Edna Dean." Biographical Files. Evanston History Center, Evanston, Illinois. Secondary Sources: Gilman, Agnes Geneva and Gertrude Marcelle Gilman. Who's Who in Illinois, Women-Makers of History. Chicago: The Eclectic Publishers, 1927. Meyer, Alberta L. "Edna Dean Baker, 1883-1956; Clara Belle Baker, 1885-1961." Childhood Education, vol 61 no.5 (May-June 1985): 379-81. Monaghan, E. Jennifer. "Gender and Textbooks: Women Writers of Elementary Readers 1880-1950" Publishing Research Quarterly 10 (Spring 1994): 28-46. Schultz, Rima Lunin, and Adele Hast, eds. Women Building Chicago, 1790-1990: A Biographical Dictionary. Bloomington: Indiana University Press, 2001.
Associated Organizations:
Associated Addresses: