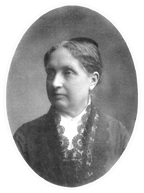 Name: Alice Bunker Stockham (Bunker)
Birth Date: November 08, 1833
Birth Place: Cardington Ohio, USA
Death Date: December 02, 1912
Death Location: Alhambra California, USA
Summary
Alice Bunker Stockham (1833-1912) was a doctor who specialized in pediatrics and women's reproductive health. She wrote pioneering books and pamphlets on female sexuality at a time when the subject was taboo, founded a publishing house to print them, and later was tried and found guilty of sending improper material through the mail. She came to Evanston in 1890 with her children and lived here until 1910. Stockham was an active supporter of women's rights throughout her life.
Significance
Alice Bunker Stockham was a physician, author, publisher, and successful business woman and suffragist worker. She was a pioneer of women's health and sexuality and played a prominent role in this work both nationally and internationally. Stockham was ahead of her time in providing women basic access to medical information and was a frank advocate for openness about female sexuality, insisting that it did in fact exist. Stockham formed a publishing house to ensure that her works and the works of other reformers were widely available and she published several books and pamphlets as she believed quite simply that women should know how their bodies worked, including pregnancy, childbirth, the diseases that only affect women, and menopause.
Alice, one of seven siblings, was born in Ohio in 1833 to Quaker parents who embraced Thomsonian medicine and hydropathy, approaches considered to be alternative healing practices to those of mainstream Americans. This early exposure to herbal medicine solidified an interest for Alice in health and healing and at the age of twenty, she enrolled at the Eclectic Medical College of Cincinnati. She received her medical degree in 1854 and embarked on a career specializing in the treatment of women and children in Kansas, Indiana and Chicago. Then in 1880 she studied homeopathy at the Chicago Homeopathic College.
Stockham published her first book, Tokology: A Book for Every Woman in 1883 which presented straightforward discussions of the physiology of human reproduction. In 1894 she published a health manual for girls called Creative Life and it was during this time that her views of women's access to reproductive information became controversial. Her writings were translated and published in German, French, Finnish and Swedish and Russian author, Leo Tolstoy was so impressed with her work that he arranged to have it translated into Russian.
She moved to Evanston, Illinois in 1890 and her home became something of a community center for young girls and a social center for the community. She invited local literary celebrities to publicly address girls clubs and offered language lessons. She was revered by the residents of Evanston as one of its leading citizens and became heavily involved in woman's suffrage and a wide range of reform activities. In 1897 she launched a New Thought School in Williams Bay, Wisconsin called the Vrilia Heights Metaphysical School. By the mid 1890's Stockham was internationally known as a woman with modern views and courage to inform and educate the masses despite facing critics and discrimination for speaking about issues which had been considered private and of no business of general discussion.
In 1905 when Stockham was in her seventies, the Society for the Suppression of Vice accused her, under the Comstock Law, of sending improper matter through the mails. She hired a lawyer and the case went to trial but she was found guilty and her books banned, forcing her publishing company to close. She never recovered from the trial and moved to California with her daughter where she continued to practice mental healing but ceased all writings. Alice Bunker Stockham died in California in 1912 at the age of seventy-nine.
More about Stockham can be found in a blogpost here – https://evanstonwomen.org/2021/05/03/stockham-place-park-now-has-its-name/
Father: Slocum Bunker
Mother: Mathilda Wood Bunker
Children: Four: Cora, William, two adopted daughters (possibly her nieces).
Education: Chicago Homeopathic College: 1880. Eclectic Medical College of Cincinnati: MD, 1854. College in Olivet, Michigan.
Years in Evanston: 1890-1910
Sources: Archives and Collections: Evanston History Center: Obituaries Evanston History Center: House Materials Newspapers: Chicago Daily; Sep 14, 1890; ProQuest Historical Newspapers Chicago Tribune (1849 - 1986)pg. 34 Secondary Sources: Schultz, Rima Lunin, and Adele Hast, eds. Woman Building Chicago, 1790-1990: A Biographical Dictionary." Bloomington, IN: University Press, 2001. Buchbinder-Green, Barbara J. Evanston: A Pictorial History. St. Louis: G. Bradley Publishing, Inc., 1989 Wikipedia: Eugenics & Stockham