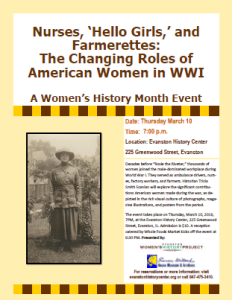 The EWHP celebrates women's history month with a look at the roles played by women in World War I. Historian Tricia Smith Scanlan presents: Nurses, 'Hello Girls,' and Farmerettes: The Changing Roles of American Women in World War I. The event takes place on Thursday, March 10, 2016, 7PM, at the Evanston History Center, 225 Greenwood Street, Evanston, IL. A reception catered by Whole Foods Market kicks off the event at 6:30 PM. The program is in partnership with the Frances Willard Historical Association (FWHA).
Decades before "Rosie the Riveter," thousands of women joined the male-dominated workplace during World War I. They served as ambulance drivers, nurses, factory workers, and farmers. Tricia Smith Scanlan will explore the significant contributions American women made during the war, as depicted in the rich visual culture of photographs, magazine illustrations, and posters from the period.
Tricia Smith Scanlan received her PhD in art history from Indiana University, with a specialization in American art and visual culture of the 19th and 20th centuries. She has taught art history at Indiana and DePaul Universities, and has worked in Museum Education at the Art Institute of Chicago. Currently, she serves as an adjunct lecturer at the Art Institute, works as an art education consultant, and teaches adult seminars at the Newberry Library.
Reservations are recommended. You can make a reservation online at evanstonhistorycenter.org/all-events/ or by calling 847-475-3410.
Admission is $10, payable at the door. EHC and FWHA Members are free.
For more information, visit: evanstonhistorycenter.org or franceswillardhouse.org.