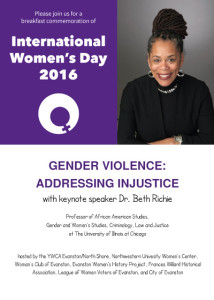 Evanston's celebration of International Women's Day 2016 is scheduled for Tuesday, March 8, 2016 at First Methodist Church, 516 Church Street. The keynote speaker this year is Dr. Beth Richie, Professor of Gender and Women's Studies at the University of Illinois at Chicago. Her presentation is titled Gender Violence: Addressing Injustice.
All are invited to:
ENGAGE in an examination of how race and social position have influenced women's experience of violence and incarceration.
TAKE ACTION to change the criminal justice system's impact on gender-based violence.
Click on this link to RSVP. The event is free of charge and a light breakfast is provided.
PROGRAM:
7:45 am: Networking breakfast
8:15 am: Keynote speaker and Q & A
9:30 -10: Learn about ways to get involved and take action from community partners
This event is hosted by: YWCA Evanston/North Shore, Northwestern University Women's Center, The Woman's Club of Evanston, Evanston Women's History Project, Frances Willard Historical Association, the League of Women Voters of Evanston, and the City of Evanston.
Please contact Cece Lobin at [email protected] with questions.