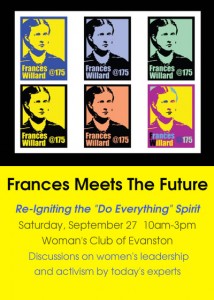 Hope you can join the EWHP for a full weekend of events to culminate the yearlong celebration of Frances Willard's 175th birthday.
On Saturday September 27th, Frances Meets the Future will take place from 10 am to 3 pm at the Woman's Club of Evanston. This daylong event will begin with morning presentations by historians Amy Slagell and Rachel Bohlmann on Willard's leadership and impact on her world. In the afternoon, local experts will lead a series of roundtable discussions on topics related to Willard's work, but focused on issues that face women and girls today. Discussion leaders are Karen Singer, Executive President and CEO of the YWCA Evanston/North Shore; Kate Mahoney, Executive Director of Peer Services; and Porschia Davis, City of Evanston's Assistant Youth & Young Adult Program Manager. Registration is required for this event and the cost is $25 in advance; $30 day-of, including lunch. Registration and more information can be found at franceswillardhouse.org or by calling 847-328-7500.
On Sunday, September 28th, Celebrating the Frances in Us All will take place at various locations around Evanston. First Methodist Church, at 516 Church Street, will host a special presentation on Willard's life and work at 9:15 am, and a viewing of its Frances Willard stained glass window at 11:30 am. First Methodist was Willard's home church and the site of many important events in her life.
Also on Sunday, September 28th, the Frances Willard House, at 1730 Chicago Avenue, will host an open house from 11 am to 2 pm. A new exhibit, Cultivating Character: The Early Life of Frances E. Willard, will open and new signage designating the WCTU historic district will be unveiled. In addition, the Ridgeville Band will play songs from the time period and birthday cake will be served on the lawn. Sunday's events are all free and open to the public.
Partners in [email protected] include: Alpha Phi Foundation; Evanston History Center; Evanston Women's History Project; First United Methodist Church; Frances Willard Historical Association; League of Women Voters of Evanston; Shorefront Legacy Center; and Woman's Club of Evanston. Participating organizations include: City of Evanston; Curt's Cafe; Peer Services; and YWCA Evanston/North Shore.
Major funding for the Willard Leadership Weekend is provided by a grant from the Evanston Community Foundation.
For more information about all of these events and to register, please visit franceswillardhouse.org or call 847-328-7500.