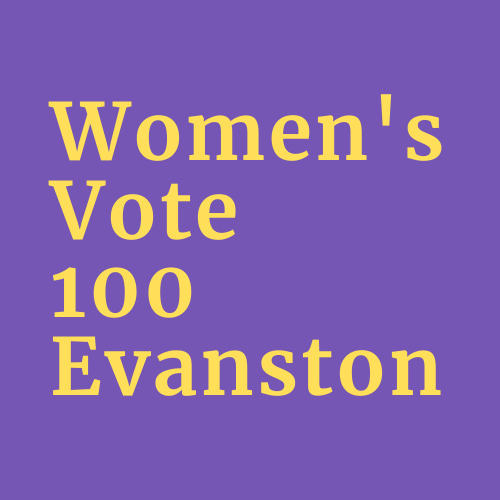 Women's Vote 100 Evanston – Mission Statement
August 26, 2020 will mark a significant moment in American women's history: the 100th anniversary of the 19th Amendment, giving women the right to vote. Evanston women were integral to the local, state and national women's suffrage movements.
A group of community partners (listed below) has gathered to plan for this anniversary. Our goal is not simply to celebrate. We recognize that voting restrictions existed long after the 19th Amendment was passed – and still exist today. We will commemorate this significant milestone in women's history remembering that a central and ongoing question in democratic societies is citizenship and who is a citizen. Our goal is to tell the story of the long struggle for women's right to vote to promote understanding of the importance of citizenship and the struggle that women had to endure to attain it.
Community Partners
City of Evanston
Downtown Evanston
Evanston Community Foundation
Evanston History Center
Evanston Made
Evanston Public Library
Evanston Women's History Project
Fort Dearborn Chapter, Daughters of the American Revolution
Frances Willard House Museum
League of Women Voters of Evanston
North Shore Convention and Visitors Bureau
Northwestern University
Shorefront Legacy Center
Woman's Club of Evanston
YWCA Evanston/North Shore
Please visit this page often as events will be added as they are planned throughout the year.
Thank you to Chicago's North Shore Convention and Visitor's Bureau for their support in creating and promoting the Events Calendar!