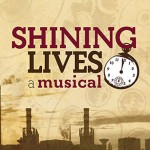 Join EWHP on May 18th for an evening including an artistic overview of the creative process behind Northlight Theatre's World Premiere Shining Lives: A Musical with the director/ co-creator, and a panel discussion centered around issues raised in the play.
It's 1922 and the young women of Chicago's Radium Dial Company are living a dream— earning good wages and beaming with new-found independence. After years of hand-painting watch dials, the so-called "harmless" radium leads to tragic results. Four courageous women upend their lives with a determination to change the future in this inspiring new musical.
Taking place on Monday, May 18th at 6:30 pm at the Evanston History Center (225 Greenwood St in Evanston), members of the community are invited to engage in a discussion about issues raised in the play with panelists:
Jessica Thebus – Assistant Professor, Northwestern University; Director and co-creator of Shining Lives: A Musical
Cindy Wilson – Clinical Professor of Law, Northwestern University
Glen Madeja – Executive Director, Frances Willard Historical Association
Lori Osborne – Director of the Evanston Women's History Project, Evanston History Center
Thematically, this new musical offers perspective on issues including:
Women in the workplace—then and now
Labor Law Reform
Safe working conditions and corporate responsibility
Everyone attending this event will be able to purchase specially priced tickets to Shining Lives: A Musical, playing at Northlight Theatre May 8 – June 14, 2015.